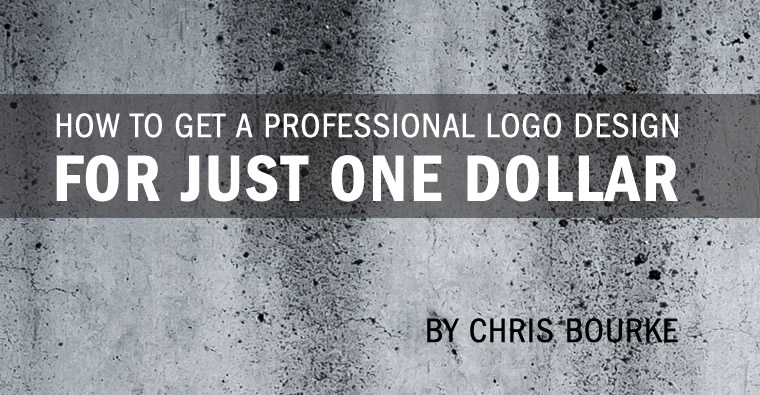 How to get a professional logo design for a dollar

Every professional business needs a logo.
Your logo is the heart of your brand and identity, and in most cases the primary way people identify your business.
When we look at brands such as McDonalds or Apple, we only need to identify their iconic logos to instantly recognise them.
But for many business owners starting out, professional branding can be expensive and something many individuals and new companies put on the backburner, thinking they can work on their logo later when they have the money. The issue though is that once your business is up and running, changing the brand can actually be more expensive if you have already printed business cards, have press advertising running, etc.
And it also may confuse people that were already familiar with your budget branding. Re Acquainting them to your new brand all over again can cost you clients if they feel your brand has little stability.
Worse still, if you opted for a do-it-yourself logo design created in Word or Corel Draw, chances are you don't look as professional as you want to appear, which could prevent your business from getting the start it needs.
If you are starting a professional business, you need to treat it seriously, and start with a professional image, but this doesn't mean you also have to spend a fortune.
In fact, you can have a professional logo design created for just one dollar.
Yes, one single dollar!
While many designers, including myself, will charge you a professional fee for a totally custom design for your business, if you don't have the budget available there is a way to still obtain a professional logo, and that is to purchase a pre-designed royalty-free logo and then change it to suit your business.
Many royalty-free image libraries allow you to pay a licence fee to use their images, illustrations and even logos. You are basically purchasing a licence to legally use another designer's pre-designed graphics for your own use.
One of these stock libraries is www.dollarphotoclub.com, where a single download costs just one dollar.
They have literally thousands of graphics and pre-designed logos to choose from, which are downloadable in EPS and JPEG format, which you can then take into your favourite design program and change colours, text and elements to give your new logo a custom look, all for one dollar!
Pros and cons of the one dollar logo
Obviously the pros to getting a one dollar professional logo is that it costs you just one dollar!
This is ideal for most businesses as you have now have an almost instant professional image for your business.
But there is also one downside of obtaining a logo this way, and that is that being a royalty-free graphic, you may have issues if you wanted to trademark the graphic as your own, and you may also find that depending on how much or how little you changed the original design, there could be another business out there with an almost identical logo.
The chances of coming across this is slim, but not impossible.
However, if you are willing to pay a little more for your business branding, there are other options which are still probably more cost effective than going direct to a design agency.
One option which is great for logo newbies is DesignCrowd.
Design crowd offers an online service where you submit your logo design brief through their website and for a set price they submit your brief to thousands of designers all over the world that come up with concepts for you to choose. Basically it is a design contest, but you are the real winner as you have a lot more options than going to a traditional design agency.
The logos created for you at DesignCrowd are all unique and created for your business, so when you settle on the one you like, once you have paid for the final design you can trademark it and be comfortable knowing that the brand is unique to your business.

If you choose this option ensure you ask the designer to provide the final logo in a number of formats you may require, including AI, EPS, JPEG, PNG and TIFF, and if possible a mono and colour version. This way if at any stage later on you require the logo in a different format you won't have to spend the time trying to track down the designer again.