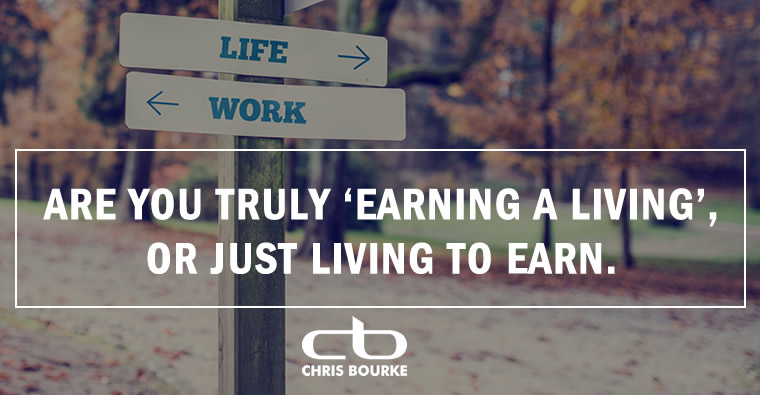 Are you earning a living, or living to earn?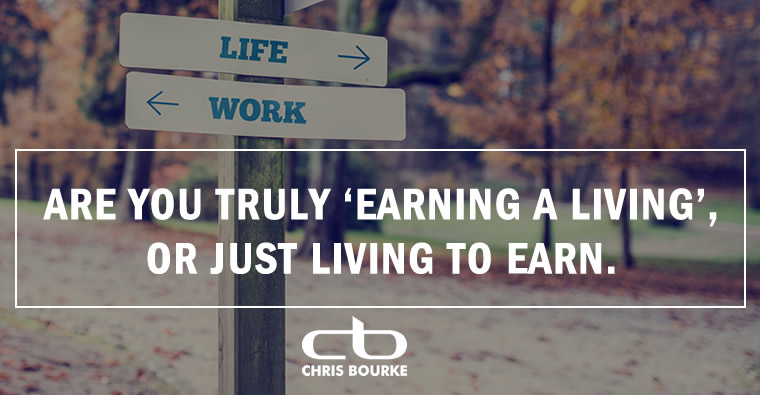 We are educated at school to sit in a classroom for hours on end, learning a number of subjects we may or may not need in life, but with the sole purpose that these lessons will give us good grades to go onto University, to once again sit in classrooms to get good marks so we can go out and work in a corporate environment to 'earn a living'.
For many this kind of 'earning a living' usually involves getting up early each day, dressing up in an uncomfortable suit and tie, driving for an hour or two every day, often getting stuck in traffic with the others that are doing the same, and then having to arrive at someone else's office to start work at a precise time to begin a day of working in a small 'cage-like' environment we call an office. These people then get a couple of breaks during the day to 'enjoy' a quick lunch, possibly uninterrupted if they are lucky, and then repeat the process in the cage for a few more hours, before returning to their cars, battling the traffic again and then get home a little before the sun goes down, to spend time with their family, before going to sleep and doing it all again the next day.
For me this is not 'earning a living'. This is not 'living', just earning.
It is almost on par with the chicken that sits in a small confined cage all day, and gets rewarded with chicken feed for laying eggs, day after day.
Consider what you are really earning…
Many people will justify the abovementioned working conditions they have chosen (yes, it is a choice, there are options), by saying they are making a good wage from it.
But consider what you are really earning, taking into the fact that your time really starts not when you get to the office, but when you walk out your front door of your life for the day.
While you may be technically doing a 38 – 40 hour working week, when you factor in the time from when you leave home until you return home you are actually doing a 12 hour working day, and then of course you need to factor in getting dressed in your suit and groom yourself for work, possibly another hour or so. So on average let's say you are actually doing a 65 hour working week.
But lets also factor in the elements of this 'earning a living' that you can't put a financial value on.
The number of hours you spend away from your family, your friends or doing things you enjoy that you could be doing instead of helping earn money for someone else's retirement fund.
Imagine the time you could be doing things such as traveling the world, enjoying time working out and getting fit, or just enjoying life in general.
On average, most of us will spend around 76,800 hours of our life 'earning a living', instead of spending that time embracing our real passions in life.
The average person also spends 11,000 hours of their life just travelling to and from work!
Converted into monetary terms, that's around half a million dollars worth of time spent travelling. Converted into hours taken from your life expectancy, and thats a good chunk of your life.
For those in industries such as mining, when they are away from home for 13 days at a time, this figure is a lot higher, and the true hourly rate a lot lower.
So tomorrow when you go to jump in your car to drive to work, ask yourself, are you heading off to embrace your passion, or just earn in income.
And also ask yourself that when you reach the final years of your life will you be able to truly look back and say you spent those many years of earning a living you did for your own goals and passions or for someone else's.
If truly living is embracing life doing what you love doing, ask yourself are you 'earning a living' right now, or fulfilling your boss' dream.